Bikeing Tour Ladakh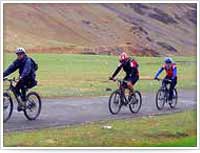 Ladakh, a land of scenic beauty and rugged landscape, offers opportunities for a number of adventure sports, biking being one of them.
The most popular route is the Manali-Leh one. Also called the Army Road, it was opened to foreigners in 1990, and covers a distance of 520 kms. Except for a little patch of 30 kms at Taglang Pass, the rest of the road is metalled.
Biking tours generally involve a 12 to 13-day bike rides, involving steep climbs through breathtaking views of glaciers and snow-capped Himalayan ranges. After a few days of fairly easy biking along the  Manali-Leh route, the difficult ride begins with the climb to Baralcha (4,880m) as the altitude increases. There are two little brackish lakes in this area – Deepak Tal and Suraj Tal. Over the next few days, the ride will normally stay at an average altitude of 4,500m.
The toughest part of the ride is the climb to Lachung La (5,065m). Another couple of days' ride through Taglang La (world's second highest Pass at 5,360 m) and the Upshi bridge over the River Indus, and you will reach your destination, Leh. Visit the Thiksey and Shey Monasteries along the way, just before Leh.
Shorter biking routes include the Leh-Alchi road (64 kms), Leh-Hemis road (45 kms) and Jispa-Gongla Road.
It is also possible to go for bike rides out of Leh with a support vehicle to bring you back. Drive out of Leh to nearby villages, monasteries or riversides, cycle along the river or to mountain-tops and be driven back.
Provided a trip is organized through a reputable agent, one can customize any kind of biking tours.