Jeep Safari in Ladakh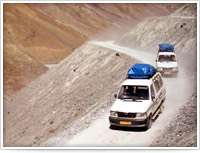 Set amidst towering mountains, cascading rivers and magnificent gorges of the majestic Karakoram and Himalayas, Ladakh is indeed a land of stunning beauty. A jeep safari is the perfect way to explore the rugged beauty of this Himalayan land. Indulge in the luxury of the picturesque landscapes in the most relaxed atmosphere. Enjoy nature, meet locals, and encounter wildlife.
The best way to go about it is to secure the company of a good guide, hire a jeep, camping gear including a tent, and to charter your own route. Customize your own trip, drive through this beautiful desert, visit the numerous monasteries, tiny villages, nomadic groups and rest by the riverside absorbing the breathtaking nature of the area, and pitch your tent under the sky by night.
Some exciting routes include -
Leh-Nubra Valley, a 3/4-day trip north of Leh, it goes through the world's highest motorable pass, Khardung La (18,380 ft). Nubra Valley was a popular trade centre on the Silk Route. Deskit and Hunder are beautiful villages in the Nubra Valley with a number of Monasteries and sand dunes.
Leh-Zanskar, about 8 days ride through glaciers and traditional villages, following the Suru valley upstream Pensi La and then down into Zanskar. Zanskar is about 480 kms from Leh. The journey starts through Kargil on the first day. Next, head for Padum through the Suru river to Zanskar. The Suru valley is inhabited by the Baltis with their largest village being Sankhu. The second largest village is Panikhar from where one can get a magnificent view of the Nun Kun Massif. Drive on to Pensi La from where one can view the Zanskar valley and Drang Drung Glacier. Drive further on to Padum, once the capital of Zanskar, now the most populous settlement of the valley. There are plenty of monasteries to visit in Zanskar.
Leh - PangongTso -Tso Morari – Tsokar Leh route  invoves a ride of about 7 days through villages and brackish lakes. Drive out of Leh through Thiksey village famous for its gigantic monasteries. Beyond Thiksey is a long arduous ride through barren mountainous terrain through Darbuk village, on to Pangong Tso lake. Walk round the lake only as far as Spangmik. An overnight halt can be made at  Tangtse village as camping is not permitted by the lake.
To get to Tso Moriri, drive all the way back to Karu and head towards Upshi, then through Tanglang La (the world's second highest pass at 5,360m). On the south-west bank of the lake is the village of Korzok inhabited by the Changpa nomads and their herds. Tso Kar Lake is located at a distance of 75 kms from Tso Moriri.
Leh-Central Ladakh-Nubra Valley-Changthang-Leh, a culturally fascinating trip of about 13 days through villages and meeting nomadic people.
Leh-Manali, a 2/3-day trip crossing two passes of over 4,800m, and Leh-Nubra which includes a ride over the highest motorable pass in the world Khardungla (5,602 m).
Leh-Dhahanu, a 2-day trip from Leh through beautiful villages of Khalsey, Domkhar and Achinathang. Dhahanu is about 165 kms from Leh and is located at a lower altitude. Downstream are the villages of the Drogpas, the last Aryan race of the valley.
There are plenty of camping sites along these tracks and adequate water sources.
For the less adventurous, contact a reliable tour operator for a package trip.