Yuru Kabgyat Festival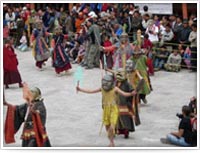 Portraying Devotion of Monks
A colourful festivity, Yuru Kabgyat is acclaimed for being the important occasion for the followers of Buddhism. It witnesses a huge crowd of Buddhist monks from all over the world. The popularity of the event can be assumed by the fact that monks from Japan, Tibet, China and Korea head to Lamayuru, lying 127 km away from Leh.
Time
Yuru Kabgyat is a 2-day festival, which is celebrated on the 17th and 18th day of the 5th Tibetan month, which usually coincides in July. Lamayuru monastery serves as the venue for the event.
Rituals
The main figures usually depicted in the dance drama are Yama (the Lord of Death) and Padmasambhava (the Second Buddha). He is considered to be the protector of the horses and animals and is also regarded as the Lord of Wealth. The festival concludes with sacrificial offerings and sacred rites performed.
Celebration
Buddhist Monks especially dress for the event to celebrate the festival with great fervour. Yuru Kabgyat is actually a dance drama, comprising of "Chhams". In Chamm, the Lamas dance in a circle decorated with vibrant masks. These masks are generally made of paper Mache and have a thin quote of plaster encasing it. The circular dance movements are followed by the beats of the drums, cymbals and long pipes.
Highlights
Being enacted at the pristine locations of Leh and Ladakh, the dance drama is the highlight of Yuru Kabgyat. Travellers visiting Ladakh can have the excellent opportunity to learn about the religion of Buddhism. The festival also offers wonderful opportunity to understand about the teachings of the Buddha that, adding more fame to the occasion.