Double Humped Camel Ride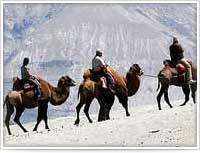 It is difficult to imagine camels in Ladakh as one generally associates them with sandy deserts and not snow deserts. It is possible, however, to trek 8 kms across sand dunes at Hunder on one of these camels.
The only difference though, is that these camels are not the average desert camels, but a double-humped kind, which are shorter and stouter. Their humps are plump and pliable and collapse in winter when food is scarce. They are the double-humped Bactrian camels.
Around Leh, short camel rides can be organized through the desert, culminating at Stok village.
Camel safaris however, are centered in the Nubra valley, with Hunder and Deskit being the most popular centres. Ride through the Nubra valley exploring the rugged terrain and changing landscapes of sand and snow. From Leh, drive to Hunder, and begin a camel ride through the sand dunes and scenic valleys to Diskit. Drive to Tegger village for the start of another enchanting camel ride along the river to Pinchimic. Begin another leg of the camel safari to Panamic village, tour the village and visit the Hot Springs.
Drive back to Leh after soaking the exhilarating sights of the Nubra valley and a dip in the Hot Springs.