Hemis Tse Chu Festival, 26th June 2015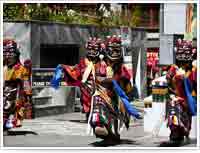 An Extravaganza of Culture
Located 45 kms south of Leh, Hemis is one of the most accessible and visited gompas in Ladakh, besides being the most important in terms of spiritual hierarchy. It has a population of about 500 resident monks. The Ladakhi royals continue to be ardent patrons of this monastery. Celebrated at Hemis Monastery, Hemis festival is in the honour of Guru Padma Sambhav's birth anniversary.
This Buddhist festival in Ladakh adds cultural richness to the Fairs and Festivals of India.
Time
The Hemis Tse Chu held in June, commemorating the birth of the renowned Indian Guru Padmasambhava is one of the most famous monastic festivals of Ladakh.
Significance
Every twelve years, the 12 metre long tangkha of Padmanasambhava is displayed. The next exhibition of this thangka, richly embroidered in pearls and semi-precious stones, is due in 2016.
Celebration
This two-day festival features a series of mask dances by the lamas, both young and old, culminating in the destruction of the Storma (sacrificial offering) on the last day. The colourful masks and fine silk costumes worn by the dancers represent carious guardian divinities of the Drugpa order to which Hemis belongs. The dance depicts the magical feats of Padmasambhava in his eight manifestations to defeat the enemies of Buddhism.
Highlights
Performed by Lamas, the Masked Dance is the highlight of the festival. It exemplifies good prevailing over evil. The participants wear vibrant costumes and bright masks. Slow dance movements and fanciful expressions fascinate the onlookers. The music is characteristically marked with sounds of drums, trumpets and cymbals. Every colourful mask portrays a different figure in the legend. The Padmasambhava dance that shows the victory of the ruta demons includes Yama- the God of Death and Guru Trakpo, the vindicator of all demons.
Witness the vibrancy of traditions at famous monastic festival Hemis Tse Chu in Ladakh!