Mountaineering in Ladakh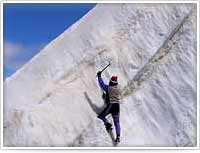 Ladakh with all the towering mountains and rugged terrain of the Karakoram, Zanskar and the Ladakh ranges, not surprisingly, is a mountaineers' paradise. The climbing season extends from mid-May to mid-October.The Suru and Zanskar valleys provide some of the best climbs.
Popular climbs include Stok Khangri (6,121m), in the Zanskar mountain range, which is the most accessible. The peak provides a stupendous view of the Indus valley and the Karakoram mountain range.
Kangyaze Peak (6,400m) southeast of Leh, and is accessed via the Markha Valley trek of nine days; and, the Nun Kun Massif in the Greater Himalayas, which is easily accessible off the Kargil-Padum road.
Other peaks in the Zanskar range include Gulap Khangri (5,900m) and Kantaka (5,275 m). Konglacha Peak (6,700m), southwest of Leh is approached via Rumbak on the first leg of the Markha Valley trek from Stok.
North of Leh across the Nubra Valley, is the Karakoram range which has a number of peaks which are, however within the restricted area and therefore, not freely accessible to tourists. Special permission from the Government of India is required to access these areas. Among the areas accessible from Nubra valley are Saser-I (7,415m), Saser-II (7,513m) and Saser-III (7,495m)
Groups wishing to climb in Ladakh, particularly in the restricted areas, need prior permission from the Indian Mountaineering Foundation in New Delhi.