Alchi Gompa Monastery Ladakh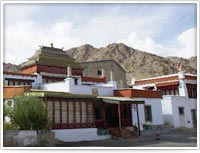 Founded in the 11th century by the great translator Ringchen Zangpo, this monastery has a strong influence of Indian architectural style as he built it on his return from India, after having received tutelage in Buddhism. The translator also made a citation about the monastery in his biographies. It tells us about that he brought thirty-two sculptors as well as wood carvers from Kashmir, especially to build the Alchi Monastery.
It is known as Chos-kor or religious enclave and comprises of five temples, the richest in terms of paintings and images being the Dukhang (assembly hall) and the three-storey Sum-tsek. Its murals belong to the 11th and 12th centuries, and pre-date the Tibetan styles of painting found in other gompas. Alchi monastery is known to be the oldest and the most famous one.
It is one of the oldest monasteries in Ladakh and has been maintained by the monks of Likir after having been abandoned for centuries as a place of worship. Three holy temples, with the major one being that of Rinchen Lhakhang at Lotsa Lhakhang, form an important part of the Alchi Gompa.
The Monastery comprises of a painting made by Kashmiri artists with a touch of Indian art. The Gompa houses 6 main buildings, which are:
Dukhang or Main Assembly Hall
Sum-tseg or three-tiered temple
Manjusri Lakhang temple
The Lakhang Soma
Lotsabha Lakhang temple
Kanjur Lakhang
Located about 70 kms off the Srinagar-Leh highway, it is the only one in Ladakh to be built on ground level unlike all the rest that are constructed on cliff-tops or hill-tops.
Along with Phugtal Gompa in Zanskar and Tabo Gompa in Spiti, it is a remnant of Indian Buddhism in Ladakh. The monastery boasts of numerous images. Vairocana is the main one. Other images encompass the ones of the five Buddha Families and their attendant deities.
Photography is not permitted within the complex.