Likir Monastery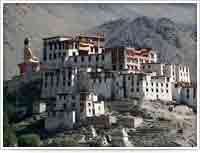 Situated on a low hill about 52 kms from Leh, this exceptional yet less visited monastery was founded in the 14th century. It boasts of being one of the well-maintained monasteries in Ladakh. This majestic monastery lies on a small hillock in the valley about 10 km from Saspol village near Indus River.

It is believed that the Likir Monastery in Ladakh belong to the Kadampa discipline of Tibetan Buddhism.
Likir lies encircled by the bodies of the Naga rajas, Nanda and Taksako, which are the two great serpent spirits. Supervised by Lhachen Gyalpo, the fifth king of Ladakh, Lama Duwang Chosje established the monastery in 1065. It is also known as Klu-kkhyil (water spirits) Gompa and is said to be the first in Ladakh to have been built by Tibetan monks. The original structure is believed to have been destroyed by a fire and the present structure re-built in the 18th century, and re-dedicated to the Gelukpa sect.
The monastery comprises two assembly halls, housing statues of Bodhisattva, "Marme Zat" (past), "Sakyamuni" (present) and "Maitreya" (Future) and Tsong Khapa, the founder of the yellow-hat sect. Today, 120 Buddhist monks stay here and it also houses a school, which is run by the Central Institute of Buddhist Studies where the children get education in Sanskrit, Hindi and English languages. The monastery also serves as a repository of old manuscripts with a variety of thangka, earthen pots and old outfits.
The annual event of Dosmochey is held here on the 27th day to 29th day of the month of the Tibetan calender, which is the main attraction of the monastery. The festival enjoys votive offerings known as Dosmochey besides the performance of the holy dances.
There are wall paintings that display the 16 arhats and the 35 benevolent Buddhas. A small museum inside the monastery treasures age-old Tibetan artifacts.