Spituk Monastery Ladakh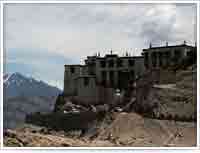 Sitting impressively on a hilltop right of the Indus, about 8 kms from Leh, Spituk Gompa was built in the 15th century. Like other famous monasteries in Ladakh, Spituk is located on a hill that overlooks the village. While on another side of Spituk is a different landscape.
It is one of the most influential monasteries of the Gelukpa order and has Sankar Gompa as its subsidiary. It was built over the ruins of 11th century Gompa and provides a magnificent view of the Indus and Zanskar valley.
Founded by Od-Ide, this monastery was also visited by Lotsava Rinchen Zangpo who was a great translator. In 15th century, the Yellow Hat sect overtook the monastery. Essentially it served as a Red Hat institution that boasts of its rare treasures of arms, icons, masks and Thangkas. Around 100 monks inhabit this holy place.
There are two prayer rooms that are unveiled only once a year during Gu-stor festival, have some beautiful statues of Buddha. The event is celebrated from 27th to 29th of the 11th month in the old Tibetan calendar. A holy dance forms an important part of the celebrations.
Three other famous monasteries of Ladakh; Stok, Saboo and Sankar are known as the branches of Spituk Gompa. The main image that the monastery houses is that of Lord Buddha. There is a sacred image of Amitayus, around a finger high in length. Another impressive image is that of Mahakaal, another not to be missed attraction of Gompa. The Dukhang or main temple houses a high throne at its end, which is restrained for the Dalai Lama.
A large bowl of wax with a focal flame, representing divinity and purity is kept in front of Buddha stature. The flame burns consistently for a year before getting out placed.
Some exquisite murals adorn the monastery and a huge library also form a part of the monastery.