Shanti Stupa Ladakh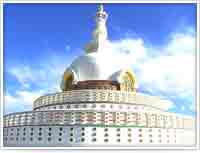 Located about 3 kms west of the bazaar, this white monument of peace was built by a Japanese Buddhist order to commemorate 2,500 years of Buddhism and to spread the message of peace. Shanti Stupa positions itself at an elevation of 4267 m and overlooks the Leh city, offering a panoramic view of the enclosing snow-covered mountains. Inaugurated by the Dalai Lama in 1985, this stupa overlooks Changspa village and is particularly impressive by night illumination.
A Stupa marks the symbol of Buddha's Teaching. It is like a time casing in which Buddha's relics, sacred Dharma Books and Buddha idols are packed for upcoming generations. The Japanese built it for World Peace. It boasts of a fine architecture that attracts horde of tourists to visit the Stupa.
The construction for Shanti Stupa Ladakh started in the year 1983 by Bhikshu Gyomyo Nakamura.
He oversaw all construction work solely. Both the Central Government and the State Government extended their help. Even the members of all the Buddhist community at Ladakh came forward to
help voluntarily for three days.
A white dome Stupa or Chorten constructed on a Changspa, opposite the Leh Palace with its unique architecture from the well-known Ladakhi style offers a majestic view at sunrise and sunset.
While illuminated at night, it looks more spectacular. The construction of the Stupa was the result of joint efforts of Ladakh and Japanese Buddhists. It was established with a purpose to spread peace and prosperity in the world.
Located at a distance of around 5 km drive able road from the city, it gives an access to visitors by climbing 500 steps. The location of this remarkable site offers visitors the opportunity to have a look at the entire Leh city.
Ladakh Shanti Stupa serves as a symbol of Peace, Oneness and Buddhist Teaching.