Magnetic Hill of Ladakh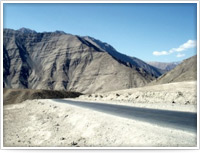 Nuzzled in the lap of snow-laden Himalayan ranges and silver valleys, Ladakh in India is a land of wonderments. It speaks volume about a Magnetic hill. The magnetic hill on the Leh-Kargil-Baltik highway, about 30 kms form Leh, at an altitude of 14,000 ft above sea level, is a phenomenon that has bewildered many. One can experience the magnetic power here by switching off the vehicle at a specific spot here.
A billboard put up by the local authorities signals the area and two white lines are marked on the road. Vehicles stationed between these two lines move up the hill at about 20 km per hour with their engines off. This amazing experience is termed as Himalayan wonder. It is a must if you dare to venture into the Himalayan territory of this part of the globe.
Locals say the magnetic force of the mountain draws all kinds of vehicles against gravity. One can also feel the draw of magnetic field. Locals report that when the helicopters and aircrafts come in contact with the radius of the hill, they start jerking. Therefore, the fliers are notified to fly at definite speed and height. Many others believe that this a mere optical illusion and has nothing to do with magnetic fields, electricity or unknown forces.
The truth however, is that a magnetic hill or gravity hill is a type of optical illusion created by rising and descending terrain. It is a place where the layout of the surrounding land produces the optical illusion of making a slight downhill slope appear to be an uphill slope. The area has served as a popular sight seeing spot because of the Sikh Gurudwara. Maintained by the Indian Army, the Gurudwara is near the hill. There are hundreds of known magnetic hill locations in the world, Leh being one of them.
Thrill yourself with the magnetic wonder mingled with religious sentiments on travel to Ladakh!