Shey Monastery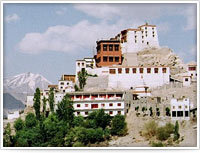 Situated 15 kms south of Leh towards Thiksey, the ruins of this former summer palace of the kings of Ladakh is perched high up on a rocky cliff. The 12 m Sakyamuni Buddha statue made of gold-plated copper by King Singge Namgyal's son Deldan Namgyal, is the largest in the area. King Deldan Namgyal constructed Shey Palace in the early 17th century AD. The main image of the monastery is of Buddha Shalyamuni.
This huge image of the seated Buddhat is believed to be the biggest metal idol and the second largest Buddha state in the Ladakh region. Glided with gold, copper sheets form this spectacular Buddha statue. The image also comprises sacrificial offerings like jewels, grain, holy signs and mantras inside it. On both the sidewalls of the statue, 16 Arhats are displayed. The back wall of the idol is adorned with the images of the two main disciples of Buddha, known as Sariputra and Maudgalyayana.
A big bowl of wax with a central flame, marks purity and divinity is kept in front of the Buddha statue. This flame blazes continuously for one year, before it gets replaced. Some intricate murals enhance the appeal of the second story of the monastery.
There are numerous Chortens (stupas) and Dresthang Gompa established around the site that are under the Thiksey Monastery. Celebrated at Dresthung Gompa, the Shey Srubla festival is the highlight. The Rock-carved idols of five Buddha can also be spotted below the palace on the roadside. It was   carved during the rule of Singay Namgyal.
There is a small library in the lower chapel and a collection of Thangkas. To the left of the Gompa is a huge Chorten (Stupa) with golden spires, and to its right are the ruins of a fort. Scattered across the nearby fields and along the hill range, are a large number of disintegrating Chortens, perhaps the largest collection seen in Ladakh.