Matho Nagrang Festival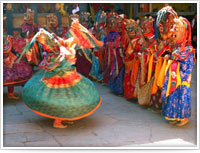 The Matho Monastery located 26 kms east of Leh, is the only one belonging to the Saskya-pa order, one of the last Red Hat sects to be found in Tibet. It is inhabited by about 60 resident monks and is believed to be about 500 years old.
The annual festival of Matho Monastery, the 'Matho Nagrang' is held on the 14th and 15th day of the 1st Tibetan month, and generally falls in February-march. It involves the public appearance of two oracles of the monastery known as 'Rongstan'. Every third year, monks of the monastery are chosen by a draw of lots to be trained to receive the spirit. In preparation for the possession of the gods, they are isolated and made to meditate for two months.
The oracles enter a state of trance and perform stunning feats such as cutting themselves with swords, running blindfolded over the high ramparts of the monastery and jumping from one high balcony to another. The Matho oracles are famous all over Ladakh for their predictions. They answer queries put forward by the people and predict future events, reacting violently to skeptical people who are just out to test them.