Saka Dawa Festival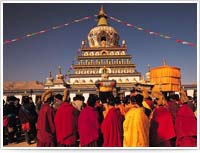 Saka Dawa is a prominent festival of Ladakh, which is celebrated as the holiest Buddhist day.
It is believed that Sakyamuni was born on the day. He stepped into Buddha hood and achieved Nirvana. Tibetans believe that one merit equals numerous merits accrued the other days. Saka Dawa signifies the "Disu month" in the Tibetan language. Disu is one of the 28 astrological constellations of the Tibetan calendar. As Disu appears in the fourth month, it is known as the Disu month.
An important activity performed during this festival is the flag pole changing, which is done by the lamas of adjoining monasteries.
Time
This sacred festival is celebrated on the 4th Tibetan month( May29 - June 27).
Significance
This auspicious day concurs with three important events of Buddha's life including his birth, nirvana and par nirvana (death).
Rituals
On this day, people refrain from killing animals and avoid eating meats and set the animals free. Other religious activities that dominate the session include prayer turning, Sutra chanting and Cham dancing. People offer sacrifices to the female deity, enshrined in the temple on the islet of the Dragon King Pond. Boating in the pond and picnicking enhance the joy of festive mood.
Highlights
All the activities are held to celebrate Sakyamuni in this month annually. The activities during the festival form the large-scale activity of Zhuanjing or circumambulation. During the festival, scores of people turn their prayer wheels on the streets of Lhasa. Each person within Lhasa take part in the circumambulation round the city. They also spend the late afternoon picnicking in Dzongyab Lukhang Park at the foot of the Potala Palace. Mount Kailash and Lake Manasarovar are acknowledged as the holy grounds for Buddhism.