Ladakh Wildlife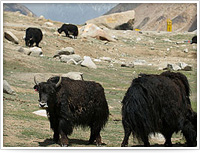 In the high altitudes of Ladakh, where temperature is normally at freezing point, vegetation is sparse and therefore wildlife that inhabit these regions have to survive harsh conditions of minimal vegetation, poor shelter and bitter cold. It has an alpine floral and faunal variety out of which many are endangered species.  Some of the animals found in Ladakh include the yak, lynx, the ibex, urial (smallest sheep), nyan (big-horned sheep), Himalayan Tahr, chim (Tibetan antelope famous for its fleece shatoush), bucks, bharal or blue sheep, and Tibetan antelope or chiru are among the wildlife found in Ladakh. The snow leopard, kyang (wild horse) and musk deer are among Ladakh's rare animals. The habitat of the nyan, chim, lynx, kyang and wild yak are, however, in restricted areas and not accessible to tourists.
Around the lakes can be found birds such as black-necked crane, bar-headed geese, ducks, Bactrian magpies, chukor, finches, desert wheat-eaters and Turkoman rock pidgeons.
Hemis High Altitude National Park, at an altitude of 3,500 to 6,900 m, 40 kms southeast of Leh, is situated on the banks of the Indus river, and includes the catchment areas of Markha, Sumdah and Rumbak streams. It covers an area of 600 sq kms and the alpine grasslands and scrublands support wildlife such as snow leopard, kiang, ibex, serow, snow partridge and golden oriole.
The best time to visit is between May and October as the temperature of winter months can drop to below freezing point.