Stok Palace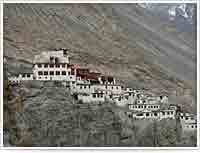 Built in 1814 by King Tsespal Tondup Namgyal, the Stok Palace is situated opposite Leh on the other side of the river Indus. It used to be the home of the Kings of Ladakh. The area of Stok palace provides finest views of Stok-Kangri Mountains in Zanskar range. It is the only inhabited palace, the other two - Leh and Shey Palace are in ruins. There are more than 80 rooms of which only 5 are open to the public.
The Royal Palace comprises of a four-story structure with a fine bled of architecture. The royal family stays on top floors whereas the lower floors were used as stables. Stores have now been converted into a museum. The palace museum has unique display of thangkas, old weapons, kings' armour, queens' ornaments and perak (turquoise-studded head gear), traditional clothing and silver jewellery.
It is an imposing palace where you can view the ancient and modern architectures. The palace can be reached by jeeps or through shared taxis. The site is famous for its well-laid gardens and visitors can also enjoy the amazing views of sunrise and sunset. On being opened for the public, the palace offers a stunning collection of royal outfits, crown and other royal articles. Lying near the palace, Spituk Monastery is another must visit attraction.
Stok Palace serves as the residential palace of the royal family and folks of King Sengge Namgyal. It also treasures a library with 108 volumes of the Kangyur. Made of using crushed Gems and stones, soothe paintings enchant the onlookers. The palace organizes an annual festival of dance-mask that enjoys a huge participation by the local incumbents. Travellers can also get to see some of the unique collection of crowns, royal attires and other significant materials inside this palace.
Travellers can also enjoy treks of the Stok Kangri and Markha Valley starting from here.