Sankar Gompa Ladakh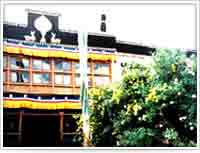 This Gompa belonging to the reformist Gelukpa sect, is a pleasant 2 km walk north of Leh. It is a subordinate monastery of Spituk and is the residence of the Kushak Bakula, the erstwhile abbot of the Spituk Monastery. The Kushak Bakula's residence is to the north of the complex. The monastery is well-known for its traditional architectural style.
The gompa has paintings and murals of the guardian god of the Four Quarters of Heaven, the wheel of Life, the Old Man of Longevity, Sakyamuni Buddha with his 16 sages and the 35 benevolent Buddhas. There are images of the Buddhist deity of compassion, Avalokiteshvara and Yamantaka (God of death), the most impressive being one with a thousand heads, arms and legs. Around 20 monks live in this Gompa. It can be reached on foot from the Leh city. The monastery can be visited in the morning and evening.
The steps at the gompa go along to double doors, which are the means to move to 'Dukhang' or the assembly hall. Three green drums coupled with a place of Gyeskos are on the right of the doors. The walls of this monastery are illustrated with mandalas and a Tibetan calendar. Visitors can also go to guest rooms, library and the rooms of Abbot, which are upstairs.
Visitors can also see there a "Wheel of Life", held by Yma, which is on the left wall of the archway verandah. There is a throng which is restrained for the head lama of the Gompa.
Other images include those of Sakyamuni (the Historical Buddha), Amchi (the Buddha of Medicine) and the White Guardian. It also houses a temple, which is devoted to the deity Dukar. The monastery also speaks volume about the Kandshu, which serve as the 108 volumes of Buddha's teachings and images of three Buddha.