Dosmoche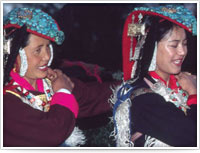 Festival of the Scapegoat
Dosmoche is celebrated with great fervour in Leh. Recognized as an annual prayer festival, "Dosmoche" was started by the rulers of Ladakh on the pattern of the popular Mon-Lam. It means 'Great Prayer' ceremony of Lhasa. Celebrated with enthusiasm and fervour, the festival is of the scapegoat. In Diskit, a group of folk dances is performed as interludes to the 'Chhams'. Sacred mask dances are carried out in the courtyard of the old chapel below the gates of the Leh Palace. For this, Lamas are drawn from different monasteries from across Ladakh on a rotation basis.
Time
It is the last event of the New Year celebrations, and is held on the 28th and 29th day of the 12th Tibetan month, which normally falls in second half of February. The festival falls in the second half of February. Dosmoche is among two New Year festivals, the another one is Losar. It is also held in the Likir (Indus Valley) as well as Diskit (Nubra valley) monasteries.
Significance
The sacrificial offerings are burnt. The destruction with great fanfare signifies washing away all evil spirits. Thus, it is believed that by doing so, people will be protected from natural calamities in the coming year.
Rituals
During the festival, a huge wooden mast adorned with streamers and sacred emblems is set up outside Leh. At the specified time, offerings of storma, ritual idols prepared of dough, are brought out. Then, these are ceremonially cast away into the desert or burnt. These scapegoats waft with them the evil spirits of the old year. Thus, the town is depurgated and get ready to welcome the new year. Spituk, Stok, Matho and Chemrey all have festivals in winter, that fall in generally between November and March.
Celebration
Followed by the lamas in their religious costumes, the Black Hat Dancers along with the local people in their vibrant clothes make the occasion even more spectacular. Musicians along with the monastic orchestra precede the way.
Highlights
The gates of the Leh Palace come alive with the enchanting music of drums and the thumping steps of the performers. The masked Lamas from various monasteries perform the holy dance-drama. The Lamas prepare, revere and finally destroy the sacrificial offerings at the end. The Lamas from the Takthok Monastery who are masters in Tantric practice and astrology make and elaborate 'DO' or Thread crosses. It is the major object of offering that traps all evil spirits, starving ghosts and demonic forces at the time of recitation of prescribed mantras by Lamas. Ten other types of offerings, of various shapes and sizes also complement the main offering. These are carried from the main venue and the main bazaar.
Behold the destruction of Evil with fanfare at Dosmoche Festival in Ladakh!