Stok Guru Tsechu Festival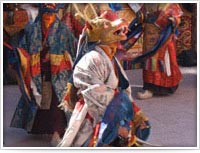 Displaying the Abiding Faith
This is the annual festival of oracles hosted in Stok village, about 20 kms south of Leh, and the present seat of the Ladakhi royals. It involves monks from the Spituk Monastery performing sacred dances and oracle appearances. These oracles are laymen who are trained by the Spituk Monastery monks to receive the spirit. The predictions made by these oracles are firmly believed by the people of this region.
Time
The festival is held on the 9th and 10th day of the 1st month of the Tibetan calendar, in a small monastery called Gurphug, a subsidiary of the Spituk Monastery.
Rituals
Stok Guru Tsechu is another Buddhist festival in Ladakh region that is celebrated annually, a week before Matho Nagrang. The festival in Ladakh region takes pride in its broadly resplendent exhibitions and fiestas in Jammu and Kashmir. It is viewed by way of fervour and is watched by way of passion and joyousness by the Buddhist public all around the Ladakh region in India.
Celebration
The festival of Stok Guru Tsechu takes place in the Stok township of Ladakh. It is only among the various trendy Ladakh festivals that are known for the passion and fervour of people in Jammu & Kashmir. Buddhist priests of monasteries in Ladakh celebrate this festival with deep faith. The fiesta is remarkable by the presentation of "masked dances". It is performed by the priests of the famous Spituk monastery in Ladakh.
Highlights
The festival of Stok Guru Tsechu is almost acclaimed in the similar mode as the Matho Nagrang, along with two "oracles" forming a religious facade before the community. The visions are not priests in this festival but laymen from the community. Those who are spiritually cleansed and especially prepared by the lamas of the Spituk Monastery in order to get the spirit of the deities.
Amaze yourself by witnessing the laymen predicting the future at Stok Guru Tsechu Festival in Ladakh!