Phyang Tse-dup Festival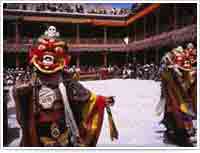 Majestic Display of Cultural Wealth
Festivals in Ladakh are celebrated as the events for rejoice and merry-making. Phyang Monastery is located 17 kms west of Leh, on a hill overlooking the village. It is a home to about 70 monks. Originally founded as a Kadampa establishment, it is now one of the two monasteries of the Dri-gung-pa order. It involves sacred mask dances of monks in rich silk costumes. Every third year (year of the pig, snake and monkey, of the Tibetan calendar), a huge elaborate thangka of Skyabje Jigten Gombo, founder of the Dri-gung-pa order, is unveiled.
Time
The annual Tse-dup is held on the 2nd and 3rd day of the 6th Tibetan month, which generally falls in July-August.
Significance
The Phyang Tsedup Festival celebrates the victory of good over evil. Like other Ladakhi festivals, the festival closes with the destruction of the Storma of the final day.
Rituals
In the starting of the festival, prayers are performed. Pilgrims visit the monastery to pay their regard to Skyabje Jigten Gombo. The votive offerings are also burnt on the last day that form an important part of the celebration.
Celebration
Organized at the Phyang Monastery, the event is distinguished by the sacred mask dances, monks and gaiety. During the Phyang Tsedup Festival, many monks attired in colourful robes, perform "Chham" a dance drama and also worship the thangka of Jigten Gombo.
Highlights
The thangka is the highlight of the festival. It is a structure raised in the memory of Skyabje Jigten Gombo. He was a saint and the founder of the Dringungpa monastic order, where the present monastery stands. It is among the most important festivals for Buddhists. This two-day festival also hosts an exhibition where numerous Buddhist artefacts are displayed for sale.
Witness the huge exhibition of Thangka, representing the glory of Ladakh festivals!