Rafting in Ladakh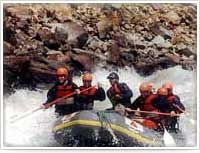 Ladakh offers a host of adventure sports, river-rafting being one of them. The land offers a plethora of rafting options that beckons adventure-enthusiasts from all across the world. White-water rafting on the Indus and Zanskar Rivers are possible from early July to September. The best stretch is between Spituk and Saspol on the Indus. Upstream of Spituk is the easiest stretch on the Indus, up to Karu. Karu is an ideal place for basic training.
For the beginner, there are three-hour runs from Hemis to Choglamsar, Phey to Nimu, or Upshi to Leh, and slightly longer trips from Nimu to Alchi. For a two-day run, start at Phiyang, pass through Nimu, Basgo and Alchi to reach Khaltse. For the professionals, there are spectacular runs through deep gorges and chasms.
The Indus, emerges near the Kailash Mountain as well as the Mansarovar Lake in Western Tibet.
During June to late August, water levels remain high, which is considered as the best season for exciting rafting expeditions. The rafting on Indus offers tourists the opportunity to behold spectacular sights of the landscapes of Ladakh and Zanskar ranges that shelters Buddhist monasteries on high cliff.
It offers you the excellent opportunity to soak in the natural beauty of the spectacular landscape with deep valleys, lofty snow-capped peaks, ancient monasteries, countryside villages, and sights of the rare wildlife.
The more difficult yet exciting river run on the Zanskar is between Padumand Nimu, and involves several days of rafting through captivating countryside, gorges, and camping out in the open. Only trained participants should attempt these runs, as the water can get rough in this region.
River rafting in these areas should be organised only through certified and dependable tour operators with good rescue back-up and coverage facilities.
Embark upon an exciting water sport of rafting in the gorgeous land of Ladakh!