Namgyal Tsema Gompa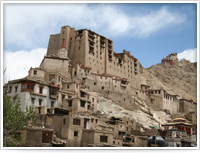 Built in 1430 on a cliff behind the Leh Palace, this Gompa was founded by King Tashi Namgyal. It has three-storey high gold idol of Buddha along with a rich collection of ancient manuscripts and frescoes. There is a fort above the Gompa that is in ruins, but a view of Leh from there is breathtaking. The monastery overlooks the town of Leh. It is usually open in the morning for morning prayers.
There is also a statue of Avaloketesvara and Manjushri. It is approximately one story high inside the location. This holy site offers tourists the opportunity to savour the stunning views of the small town of Leh. Besides these attractions, visitors can also throng to various associated temples adjacent to the Gompa. These holy spots remain open only in morning and evening. A tour to the Namgyal Monastery in Ladakh is rewarding as it offers visitors the opportunity to visit various holy sites lie nearby.
Two trails move towards to "the Peak of Victory", whose twin peaks are linked by huge twist of vibrant prayer flags; the first way zigzag across its south corner from the palace road and another scales the gentle norther slop through the Chubi village. This serves as the route followed by the Lama from Shankar Gompa. Visitors can drive along the dirt track, which moves left off the main Khardung-la highway, around 2-km north of the bus stand.
Reaching the Gompa from the south, the edifice you come across will be the red-coloured Maitreya temple. The shrine shelters a huge Buddha idol enclosed by Bodhisattvas. It has modern wall paintings. Most popular of these, there is the celebratory depiction of Tashi Namgyal, who was the founder of the temple. In the dark interior, visitors can just view the murals of "Shakyamuni" (the historical Buddha) and Tsongkha-pa, the founder of the Gelug-a sect.