Leh Palace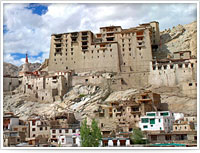 Built in the 17th century by King Sengge Namgyal, it was abandoned in the mid-19th century when the Kashmiri forces laid siege. The royal then family moved south to the current home in Stok Palace on the southern banks of the Indus. Though it is nine stories high, there is little left to see. It accommodated the royal family in the upper floors, and stables and store-rooms on the lower floors. It now houses the office of the Archeological Conservation of the Indian government, and remains a testimony to the architectural splendour that was inspired by the Potala in Lhasa.
Situated in the Himalayas, the exciting journey one has to embark on to reach the palace is what makes it more special. The Leh Palace comprises of nine stories and most of them are in ruins now. The mighty palace overpasses the Namgyal hill and is settled amidst gorgeous locales of the Himalayas. Above the palace is the well-known Victory Tower that was constructed in the memory of chivalrous Ladakhi soldiers who fought the invading armies of Balti Kashmiries in the 16th century.
The temple architecture is that of medieval Tibetan architecture. With massive fortified walls and overhanging wooden balconies, the architecture looks spectacular. Leh Palace has been a quiet beholder of some of the most ferocious wars and has endured much destruction from cannon balls. It still exudes beauty and offers spectacular vistas of the snow-covered mountains and landscapes. In the palace, there are some murals that speak volume of the glory of the bygone era.
The Archaeological Survey of India is presenting taking care of the maintenance of the palace, which is now in a ruined state. Travellers visiting the place can also treat their eyes with the spectacular views of the adjoining areas like Stok Kangri apart from the Indus valley and the Ladakh mountain range.