Cave Monastery / Shergol monastery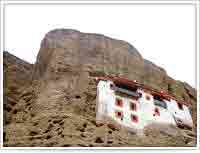 This monastery is situated on the Wakha river valley between Kargil and Mulbekh, about 240 kms from Srinagar and is a tough ascent halfway up a mountain slope. This peculiar monastery of Ladakh, which sticks out of granite cliff and is amazingly suspended in the middle of the mountain.
Tourists have to embark on an adventurous expedition to reach the monastery. It provides a breathtaking view of lush green surroundings that enthrall every visitor. The monastery offers a calm ambiance to feel the bliss of tranquility. Though it is a small monastery yet it houses some interesting  frescoes to keep visitors engaged.
It belongs to the Gelukpa order and is home to only two Buddhist monks. The village below it comprises about 35 households and a trip to this Gompa which seems to be in the middle of nowhere, can feel ethereal as no other Gompa can provide such exclusivity, peace and quiet.
The Shergol monastery enchants both architecture lovers and nature enthusiasts. Visitors can also enjoy spectacular locales and unwind themselves in tranquil ambiance away from the busy life of cities. The architectural uniqueness arises arouses inquisitiveness in international travel enthusiasts to visit this gorgeous monastery.
On visiting the cave monastery in Ladakh, tourists can have the fine views of the Buddhist statues, culture, art and sculptures. The Cave monastery is a great delight for the voyagers. Besides witnessing the architectural grandeur of this holy shrine, visitors can also watch the display of elegant frescoes in the monastery.
There is an interesting 4- day trek from here into the Suru Valley across two mountain passes, Safi-la and Rusi-la. It is also the access base to visit Urgyan-Dzong, which is renowned as a meditation retreat that is situated deep inside the mountains enveloping the Wakha River valley.
The monastery serves as an interesting place to see on the way to Kargil.