Thiksey Monastery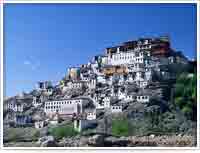 Located about 17 kms south of Leh, this monastery of characteristic beauty is probably the most photographed, and the best place around Leh to see a puja. It is a magnificent complex with its red and yellow main building rising grandly above the numerous monk cells. The Chamba Lhakhang ('House of God' for the Buddha to come) was built in 1980 in honour of the Dalai Lama and houses an impressive two-storey Maitreya Buddha. This gompa that houses about 500 monks belongs to the Gelukpa sect, and exhibits excellent works of art.
The roof of this monastery provides a panoramic view with the Zanskar range in the backdrop. It serves as the largest monastery in central Ladakh. The Tibetan Buddhist monastery is known for its architecture and its location. It has a 12 storey structure coupled with 10 temples, an assembly hall and a nunnery. It took good four years to craft the statue. Carved by the local artists under the master Nawang Tsering, it is adorned with clay, copper and gold paint.
The monastery also serves as a residential place for around 120 monks. Buildings of the structure are also made in hierarchal order.
The monastery is known as 'Mini Potala' of India as it appears like Potala Place in Lhasa. A big statue of Maitreya or Future Buddha that is 40 feet in height also lies in the monastery. Devoted to Goddess Tara, the Tara Temple is another attraction for visitors. Besides visiting the monastery, travellers can also spot here some precious stupas, thangkas, statues, swords and wall paintings.
The monastery provides the opportunity to see the fine views of the Indus Valley and other monasteries like Stok, Shey and Matho can also be witnessed from here. Celebration of Festivals is another highlight for the travellers, locals and Buddhists in Thiksey Monastery.