Ladakh Food and Cuisine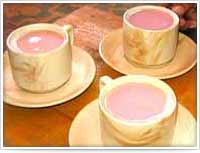 Ladakhi food is adapted to the harsh climactic conditions of the place. There are, of course, several multi-cuisine restaurants in Ladakh, owing to the volumes of foreign visiting tourists.
Many tourists may not be particularly enamored of Ladakhi food, however, for a taste of authentic Ladakhi fare, one can try from among the many family-run guest-houses for a perfect home-cooked flavour. There is not a huge variety of Ladakhi food, and it is very similar to Tibetan food.
A trip to Ladakh will not be complete without sampling Gur-gur chai, the famous Tibetan salted butter tea, and the Chang beer. The gur-gur tea is made of yak butter added to boiling water mixed with salt, soda, milk and an infusion of tea-leaves, called zarcha. Butter is considered essential to keep the body warm in the cold climate.  Gur-gur tea is offered in every house, between intervals at a cultural programme, or during a puja. It is considered an offence not to finish the contents of the cup.
Chang on the other hand, is a kind of beer made from fermented barley, integral to most Buddhist rituals and celebrations. It is much easier to acquire a taste for Chang than Gur-gur chai.
Tsampa, roasted barley flour has been the staple food for centuries. It is used in various forms – as a broth mixed in tea or kneaded with butter, as dumpling wraps in momos, or Thukpa, a soup of vegetables and flour dumplings.