Ladakh History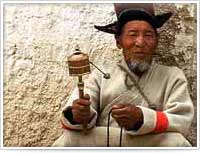 The early history of Ladakh is not clear, and documentation done pertained mostly to the religious. It is believed that the Khampa nomads of Tibetan origin were the first inhabitants of Ladakh. They settled in the region north of the Chang-La pass (5,099m). Later settlements along the upper Indus were established by the Mons, Buddhist pilgrims on their way to Mount Kailash in Tibet, from India. The Mons, were, either Buddhist missionaries sent to Ladakh during emperor Ashoka's reign (273BC – 236BC) or came later when the Kushan emperor Kanishka took over Kashmir (78 – 101 AD). Soon after came the Dards from the Hunza district of Gilgit. The Brokpa tribe (Dards) of Dha-Hanu are the last Buddhist Indo-Iranian people.
By the 3rd century, three major ethnic tribes had come to settle in Ladakh.
In the 9th century, Ladakh's influence extended beyond the Indus valley. During this period, many forts and palaces including the Shey were constructed.
In the 14th century, Tsongkhapa, a Tibetan pilgrim initiated the Gelukpa Buddhist order into Ladakh, followed by the founding of their monasteries at Thikse, Likir and Spituk.
Though Ladakh was attacked frequently by the Balti-Kashmiri armies and was even temporarily under the rule of Ali Mir of Baltistan in the 16th century, King Singge Namgyal rose to restore Ladakh's glory (1570-1642), annexed territories, and established Leh as the capital.
In the 1830s however, the Dogra army of Jammu led by the famous general Zorawar Singh, laid siege on Ladakh, exiled the king to Stok and brought it under Maharaja Gulab Singh's reign. Ladakh has remained under the control of Jammu &Kashmir ever since,
In 2002, all political parties in Ladakh merged to form the Ladakh Union Territory Front, to demand for a Union Territory status for Ladakh because of its religious and cultural differences with predominantly muslim Jammu & Kashmir.