Chandertal Lake Ladakh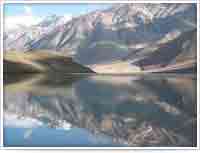 Wish to explore a completely untouched and virgin water body amidst the mighty ranges of the Himalayas? Trek to the famous Chandratal lake (the Moon Lake) and you will feel like going to the moon. It makes you feel as if you are the first explorer of the place.
This deep blue coloured lake is one of the most beautiful & spectacular lakes in the Indian subcontinent. Being located at an altitude of about 4300 m (14,500 feet above sea level), the lake is a favourite spot of nature lovers, adventure enthusiasts and almost all the vacationers.
Located about 6 km from the Kunzum Pass in Spiti and Lahaul district, the lake is the source of the Chandra river. It boasts of its circumference of about 2.5 kms. The lake, once served as a halting place for traders, going to Spiti and the Kullu valley from Tibet. The mountains summits with snow-caps as well as slopes encompassing the valley rise up to 3000 m to 6300 m. The mountain ranges are known as Moulkila and Chandrabhaga which entice mountaineers.
The best part of the lake is that it changes its colour from reddish to orange, blue and emerald green as the day passes. In old times, it was a glacier, perfect for camping can be accessed from Manali and by Kaza. Legend says that the lake is the site from where God Indra's chariot picked up Yudhishthira (the eldest of the Pandava brothers). This turns the lake into a revered site, drawing many pilgrims.
Chandratal Lake Camp is a dream destination for adventure lovers with a number of trekking tents, toilet tents, dining tent and a complete kitchen tent offering a variety of Indian, Chinese & Continental cuisines. The Camp is operational in Summer season till September. Chandratal Lake offers excellent views of Mulkila mountain range and Samudra Tapu Glacier.
Set off an exciting trek to Chandratal Lake in Ladakh for a lifetime experience!