Tso Morriri Lake Ladakh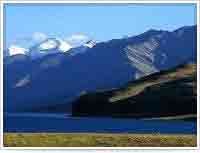 Acknowledged as the 'Mountain Lake', Tso Moriri is located in Changthang region, about 240 kms southeast of Leh. Surrounded by the Trans-Himalayan range and the Greater Himalayas, it is one of the highest lakes in the world situated at an approximate altitude of 4,500m. It is about 30 kms long and 8 kms wide. The amazing colours of the water against the stark backdrop of barren hills and snow-capped mountains, gives this lake its character.
According to a story, once a nun on a yak, Tsomo was travelling across the lake and theyak suddenly started to drown. The nun managed to wade through the shore and named it "ri ri", meaning 'come here' to the yeak. Thus the lake got its name as Tsomoriri.
Because of the absence of continuous slopes for good drainage of water, the snow of the winter melts during summer and collects in basins, to form brackish lakes in this region. Tso Moriri is a fresh to brackish water lake. This serene blue pallet lake is about 7 km wide at its broadest point and around 19 km long.
The vibrant shades of blue color presented by this lake along with a gorgeous landscape around provides the place an enchantingly romantic feel. Though it is very hard to survive here in winters as the place is extremely harsh.
It is a breeding ground for a number of birds such as the Black-necked Crane, bar-headed Goose, and the Ruddy Shelduck. It is unique with respect to the flora and fauna it supports, and as a result of being in the middle of a cold desert, a number of birds and animals come for a drink. The Korzok monastery to the west of the lake is said to be one of the oldest settlements of the world.
Give an excellent finale to you Ladakh visit with Tso Moriri Lake!