Tso Kar Lake Ladakh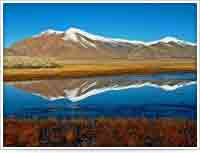 Tso Kar or 'White Lake' is a brackish salt-water lake and is located about 70 kms west of Tso Moriri in the Rupsu valley. This is a much smaller lake compared to the Tso Moriri but like most mountain scenery in Ladakh, it is beautiful and pristine. The lake is located at a high elevation of around 4500 m.
The Tso Kar area is inhabited by the Khampas, a nomadic group that live in large tents in summers, and in solid stone huts to brave the winter. Known as Chinese cowboys, they are basically herdsmen and rear cattle such as yaks, cows and goats.
What is also appealing about this area is the abundance of wildlife. Commonly seen are kiangs (wild asses), foxes and marmots, and an occasional Tibetan wolf. This is the most accessible region in Ladakh for viewing wildlife as the terrain in other parts can be very harsh.
Enveloped by the marshlands, the lake has gained popularity among birdwatchers. Brahmni ducks, the great crested grebe and the bar-headed geese are some of the commonly seen birds in the area. Black-necked cranes are the prime attractions of Tso Kar.
It is among the rare sites in the world with its nearly extinct birds. With a wingspan of about 8 feet, these birds create wonderful site as they take off over the green plains on the scenery of snow-covered mountains.
With hills and mountains enveloping it from all the corners, the lake itself creates an amazing view. The water of the Tso Kar Lake has no scope for leakage and that is why it is brackish.
A visit to Tso Kar comes up with the opportunity for night camping. Though there are not many tents yet tourists can easily find a room through prior booking.
Admire the breathtaking view of Tso Kar during daytime that becomes even more appealing at night!