Pang Gong Tso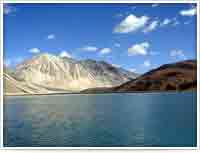 Situated at a height of about 4,300m, Pangong Tso is the largest brackish lake in Asia, with a larger part of it extending into Tibet. It is 130 kms long and 5 kms at its widest point. Despite being a salt-water lake, it gets frozen completely during winter.
Acclaimed as the "Lake of the great hollow", the Pangong Lake is situated at 160 km to the north-east of Leh across the Chang la pass. The mountain ranges at the Pangong's north-western apex are of lime stones that seem to affect its water. There is no marine life here, save for a few migrating birds now and then like gulls and brahminy ducks.
The Crystal clear water glimmers in multitude shades of blue that depends upon its depth. With a backdrop of mountains of different colors, It presents a gorgeous sight for the Gods. Being in the border, the furthest point one is allowed to go to, is Spangmik, about 7 kms along its western bank, but it is enough to take back the most beautiful memories of Ladakh. For the die-hard adventure enthusiasts, there is a camping spot on the shore of Pangong. The place serves as a photographers' delight and camping is a good option if you want to view the sunset and the sunrise.
The very barren-ness and vastness of the area contributes to its striking beauty. Only a fourth of Pangong Lake is in India while towards the east, the lake is supposed to have sweet water. With the backdrop of the man and merak village combining snowy summits of the range, it offers a gorgeous view.
It is an approximate 6-hour jeep ride from Leh, and since there are no facilities here, it is a good idea to bring a packed lunch for a day-trip.
Lose yourself in the untouched beauty of Pang-gong-tso lake in Ladakh!