Frozen Zanskar Trek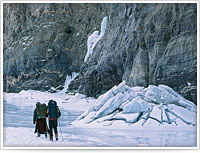 North of the majestic Himalayan Range, amidst a muddled knot of harsh mountains, lies the once independent kingdom of Zanskar. Lying between the Indus valley and the main vertex of the Indian Himalaya, this huge area is sprawled over 3000 square miles. It is larger than the Sikkim. In its remote setting, well-protected by snowy mountain passes, Zanskar has kept antique form of Tibetan Buddhism which prospers in a chain of far-extending monasteries. Most of them occupy gorgeous fortified locations, high on rocky ridges in abandoned setting.
This trek is executed in the months of January and February when weather conditions are extreme, with 65% of it being bad weather. Day temperatures may stay around 20C, but the night temperature drops to -35C. Most of the trek is done on the ice (Chaddar) but at some places icy rocks climbs are involved.
It is one of the most challenging treks. The total distance of it (one way) is approx 105 km. and can be covered with an average distance of 15 to 17 km a day. Any one willing to undertake this unique adventure must be fully prepared to accept tough camping and trekking conditions. Physical fitness is absolutely necessary for this extreme adventure.
The main part of this trek is to walk across the frozen Zanskar River, through some of the most isolated inhabited regions in Zanskar, through frozen waterfalls, and to camp the nights in caves. It is possible to customize one's routes according to one's requirements. All treks commence from Chilling.
After acclimatization at Leh, drive to Chilling, and trek to the first camp in a cave. Walk across the frozen waters the next day, and return, or trek along the course of the frozen river, or around the nearby areas, depending on the route chartered by you tour operator.
This trek is not for the faint-hearted.