Lamayuru Trek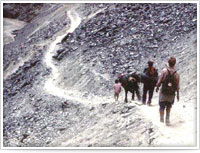 Lamayuru is a scruffy little village situated about 127 kms west of Leh, but has one of the most spectacular gompas. It is not so much the gompa, but the location and construction that makes it special. It is perched above a drained lake, overlooked by massive mountains.
Founded in the 10th century, this Kagyupa monastery boasts of being one of the largest and oldest ones in Ladakh, with a resident population of 150 monks. It has been destroyed and rebuilt several times. It has a great collection of thangkas and frescoes. Explore the stone passages and courtyards of the lower parts of the complex. There is an Alchi-era temple, Singge Gang Lhakhang with its guardian deities, in the courtyard, which is not easy to locate.
It is renowned for its two annual festivals, in the 2nd and 5th Tibetan months. Facing the village is the remains of what might have been a lake, which locals refer to as 'Moon land'. A few kilometers south of Lamayuru, visit the Wanla gompa set on the popular trekking route to Padum.
This amazing trek leads out from Lamayuru to where you will drive ahead the moon land and from there, the Leh-Lamayuru Alchi Trek pathway is followed by streams and then heads towards the 3700 m high prinkit la pass. From there, visitors can have the breathtaking views of Zanskar Range Mountains.
Then, you will cross the village of Wanla and its ancient monastery. Next few days will be dedicated to the Tarla located at an elevation of 4850 m. After passing Mangyu where two rivers merge, visitors will reach Alchi, known for its age-old monastery.
Highlights of the trek include the age-old Gompas at Lamayuru, Wanla, the Sumdochoon valley, populated by progeny of Nepalese craftsmen brought by the king of Ladakh.