Nubra Valley Trek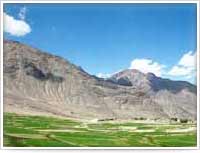 Known as the Valley of Flowers, Nubra is situated 150 kms north of Leh, and is the most fertile valley in Ladakh. Its gentle slopes transform into a verdant green in the summer months, hence its name (Nubra means green). It is dominated by two expansive flood plains through which run the Nubra and Shyok rivers. The glaciers in the area provide abundant water till the end of autumn and the terraced fields are rich in alluvial brought by the two rivers. The Shyok and Nubra rivers converge just above Deskit, is the largest town of Nubra Valley. Its population is predominantly Buddhist.
Blest with the best weather in Ladakh, the Nubra valley is rich is grain and fruit production. You can hear and see the local mills churning out Tsampa, the staple flour. In the days of the silk route, caravans traveling towards Central Asia and Kashmir always made a stop here to replenish themselves with fresh supplies.
Summers are warm, 5 – 30C, and winter temperatures range from -14 to 24C.
Trekking in this region is an exhilarating experience as the greenery of the valley contrasts starkly against the backdrop of rocky, barren mountains. Nubra Valley is accessible from Leh by crossing the Khardung La Pass (5,600m), which is possible only for a few months in the year (June to September). Because of its low altitude and good weather, the Nubra valley is a popular trekking regionb, with numerous trekking routes to choose from.
Bactrian camels, sand dunes, Panamik hot sulphur springs, Deskit and Shamstaling monasteries, and the Khardung La pass are popular tourist attractions in the area.
The nearest airport is Leh. The Nubra Valley is accessible by road from Leh through a number of passes, Khardung La (allegedly the highest motorable road at 5,600m) being one of them. State-run buses ply between Leh-Deskit, and Leh-Panamik, however, it is best to hire a jeep. Though the road to Nubra Valley remains open through out the year, summer months are best to visit, between June and September.