Drass Valley Ladakh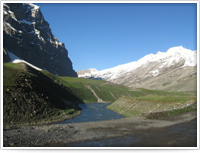 Drass is a small town located about 60 kms to the west of Kargil, on the road to Srinagar. It has the unenviable reputation of being the second coldest inhabited place in the world, with the temperature going to as low as – 40C during winter. Drass Valley starts from the base of Zojila Pass, the Himalayan gateway to Ladakh.
Drass suffered heavily in the summer of 1999, when the town was shelled by Pakistani backed incursions. The Indian army eventually re-captured the town, its surrounding areas, and Kargil district. It is the nearest point to the Line of Control.
At the entrance of Drass are three stone figures of a king and two women carved on pillars. The inscription on the pillars is in the old Brahmi script and the ornaments worn by the women, Kashmiri. 
Drass inhabitants consist mainly of Dard stock, an Aryan race believed to have originally migrated from Central Asia. They speak Shina, a Dardic language, which is unlike the Ladakhi dialects spoken elsewhere in Ladakh. The population is majority muslim, as is the rest of Kargil district. It was predominantly a Buddhist region, which converted to Islam in the 15th century. The only Buddhist remains of note in the whole area are images of the Maitreya Buddha carved on a rock face in Mulkekh.
The favourite sport is Polo
The short summer season begins in May with the melting of snow. Winters are long and harsh, with snow often falling to a depth of 14 feet, and the temperature dropping to -40 C.
The main crops of the area are barley and coarse cereal as the short summer and barren soil does not support much vegetation.
Drass is a popular base for treks into Suru Valley, and pilgrimages to Amarnath, and lies on the Srinagar-Leh road.
The nearest airport is Srinagar (140 kms), and the nearest railhead Jammu, 200 kms from Srinagar.