Sani Monastery Ladakh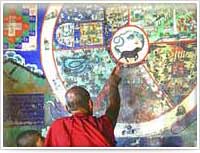 About 7 km west of Padum is the Sani Monastery, which belongs to the Drukpa Kagupa order. It is believed to be the oldest Ka-ni-ka monastery in Zanskar. This monastery is said to have been built in parts, each dating to a different century. The chorten is believed to have been erected in the 2nd century, while the dukhang in the 17th century.
Unlike most Ladakhi monasteries, this monastery is built like a castle on flat ground, making it more accessible than most others. There is a stupa in the backyard of its walled complex. There is a red wooden phallus above the door suggesting it is associated with fertility. The prayer room is impressive, with plenty of Budhist statues and tangkas. The walls are adorned with stucco murals (wall paintings), based on the life of Padmasambhava. There is also a large sculpted image of Maitreya Buddha on a rock near the gompa.
Architectural Pattern
Sani monastery is also considered one of the eight holy Buddhist sites in the world. This highly revered site was visited by a number of eminent personalities associated with the Himalayan Buddhism like Padma Sambhava, Naropa and Marpa. It is believed that the base of Sani Monastery was laid during the reign of the great Kushan king, Kanishka (2nd century). The Kanika stupa which still stands in the backyard, also supports this belief.
The monastery has a large multi-columned central prayer hall, which displays a number of statues of popular Buddhists divinities and 'Drugpa' (old schools) saints. The walls of the hall are adorned with frescoes and thangkas.
Festival
The famous Naro Nasjal festival is celebrated at the Sani monastery every year in the month of July. People from all over the Zanskar valley visit the monastery to participate in this two day long festival. The lamas of the Bardan monastery can be seen here performing mask dance as a part of the ritual offering. This is the time when the bronze statue of Naropa is unveiled for the common people.
While on a trip to the Sani monastery, one can also visit the famous Stagrimo monastery, Karsha monastery and Zongkhul monastery that are also located at a close proximity. The months from July to October are considered ideal to visit the Sani monastery.
How To Reach
Sani is accessible by a two-hour trek from Padum. Padum & Kargil (240 km), and Kargil & Srinagar (140 km) are well connected by road. Srinagar is the nearest airport to sani.