Sankoo Tour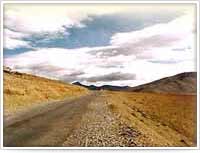 Sanku is a predominantly Muslim area, 42 kms south-west of Kargil, away from Padum. A picturesque expanse surrounded by rocky mountains, it is an upcoming township with a small bazaar, and numerous villages around it.
Dense plantations of poplars, willows, and wild roses fill the valley, giving it the ambience of a man-made forest. Two side valleys drained by large tributary streams of the Suru river open up on either side of the expanse, the Kartse flowing from the east, and the Nakpochu descending from the west, The Karste Valley runs deep into the eastern mountains mass with a large number of isolated villages. The 4-day trek between Sankoo and Mulbek follows this valley; the route passes through some very beautiful alpine areas on the way the 4950 m high Rusi-la. A southward diversion from the foot of the Rusi-la leads to Rangdum across the glaciated Rangdum pass where the Karste River rises.
The 3-day trek to Drass across the Umba-la (3350 m) follows the western valley.
Sankoo is also popular as a place of pilgrimage because of the ancient Muslim shrine dedicated to scholar-saint, Sayed Mir Hashim. He was specially invited from Kashmir for imparting religious teachings to the region's Buddhist ruler, Thi-Namgyal of the Suru principality, following his conversion to Islam during the 16th century. The shrine is situated in the village of Karpo-Khar on the outskirts of Sankoo where the chief had his summer palace.
Around Sankoo, visit Panikhar and Parkachik, or even get closer to the Nun (7,135m) and Kun (7,087m). From Panikhar, a two-hour walk will take you to Lago La from where you can catch a breathtaking view of the Nun-Kun masiff. Walk another 3 kms walk in the direction of Padum, cross a suspension bridge over Suru River, down the valley for another kilometer, and up the foot trail to the Lago La pass.
From the top of the pass, walk down the other side, to Parkachik. A little further down is the Parkachik glacier.
There are regular 2-hour bus rides from Kargil (42 kms). Kargil – Srinagar is 240 kms.
Srinagar is the nearest airport at 203kms from Kargil.