Zanskar Trekking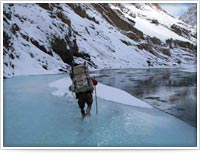 The Zanskar valley is a group of mountain-locked valleys with a mean elevation of about 3,950 m, and covers an area of 7,000 sq kms. It is bounded on the north by the Zanskar range and on the south, by the Himalayas. To the east and west are high ridges connecting the Himalayas and the Zanskar range, making access to Zanskar difficult. It was only in 1981 that a jeep-able road was completed to connect Kargil with Padum. It is watered by two main branches of the Zanskar river. The first, Doda has its source at Pensi La pass (4,400m) and flows southeast leading towards Padum, the capital of Zanskar. The second branch is formed by two tributaries, Kargyag with its source at Shingo La, and Tsarap, with its source at Baralacha La. These two unite to form the Lungnak, which flows northwest towards Zanskar's central valley where it unites with the Doda to form th Zanskar River.
There is snowfall for over seven months of the year, and it is one of the coldest inhabited places in the world. In winter, the Zanskar river freezes on the surface and the locals walk on the ice to access the Indus valley, which otherwise is an inaccessible route.
Most of Zanskar's vegetation is found in the lower areas, and consists of alpine and tundra species. Crops include barley, lentil, potato and apricot. Domestic animals include the yak, dzo, sheep, horse and dog, and wildlife include marmot, bear, wolf, snow leopard, kyang, bharal, ibex, wild sheep and goats.
It remains is a trekker's paradise and popular treks include Padum to Darcha over the Shingo La (5,090m), and Padum to lamayuru over the Singge La (5,050m). The more remote one is from Padum to Markha Valley over the Cha Cha La (4,950m) and Rubrang La (5,020m). This trek should however, be done after mid-August when the water level in the river has receded. The best season for trekking is at the end of June till mid-October before the first snowfall of winter.
Zanskar has a pleasantly warm and dry summer climate, and extremely long cold and harsh winters.
The nearest airport is at Leh, about 230 kms away.