Shyok Valley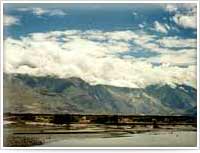 Shyok Valley, at an elevation of 10,500ft, is the valley of the Shyok River. Rising from the Khumdang glacier, the Nubra and Changchenmo rivers fill the waters of Shyok river. The river flows westwards and meets the Indus in Baltistan. Shyok is a Yarkhand name and it also means the river of death, probably given by the Central Asian traders who ventured on this treacherous route for centuries and perished. The entire northern area -- the region of the Karakoram - has names related to death. It is evident that this was a part of the ancient trade route from Central Asia to Ladakh, where many died and only the hardiest survived.
The river freezes in winter, thus forming an easy access between the Khaplu and the Nubra valleys, while in the summer season, the river overflows its banks and create a vast marsh, as the snow melts in the higher reaches. During this period, the Shyok River has to be crossed on rafts of inflated skin.
The lower areas of the valley are fertile and abundant in fruit such as apricot, apple, mulberry and walnut. Temisgam is probably the richest village in terms of fruits and nuts. Visit the pretty village of Khalsar, which stays enchanting all the year round.
It can be accessed through Leh through Digar La pass (6,00m), which remains open for a longer time than the Khardung La. Leh is connected with regular flights from Delhi, Chandigarh, and Srinagar.
The best time to visit is between July and September.