Tso Moriri Lake Ladakh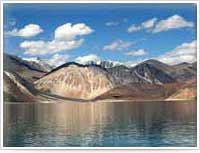 Known as the 'mountain lake', Tso Moriri is located in Changthang region, about 240 km southeast of Leh. Surrounded by the Trans-Himalayan range and the Greater Himalayas, it is one of the highest lakes in the world situated at an approximate altitude of 4,500m. It is about 30 km long and 8 km wide. The amazing colours of the water against the stark backdrop of barren hills and snow-capped mountains, gives this lake its character.
Because of the absence of continuous slopes for good drainage of water, the snow of the winter melts during summer and collects in basins, to form brackish lakes in this region. Tso Moriri is a fresh to brackish water lake.
Excursions
This mountain bounded expanse of water, near the small village of Korzok, is a wonderful holiday destination if one wants to visit the Korzok Monastery. This 19th century monastery houses Shakyamuni Buddha and other statues. The monastery lies in the west of the lake and is said to be one of the oldest settlements of the world. Nomadic people can also be seen near the lake grazing herds of goats and yaks.
The lake is a breeding ground for a number of birds such as the Black-necked Crane, bar-headed Goose, and the Ruddy Shelduck. It is unique with respect to the flora and fauna it supports, and as a result of being in the middle of a cold desert, a number of birds and animals come for a drink.
Hemmed between Ladakh in the North and Tibet in the east and Zanskar in the west, Tso Moriri Lake is declared the largest of the High Altitude Lakes (HAL) in the Trans-Himalayan bio-geographic region, entirely within India.