Ladakh Salt Valley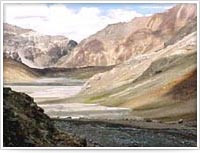 The Salt Lake Valley is the widest expanse in Rupshu, the highest inhabited part of the Changthang Plateau. There are very few permanent settlements, Korzok being one of them. At an elevation of 5,000m, Korzok is considered to be the highest cultivated place in the world, but due to the extremely harsh conditions, the yield is poor.
The salt valley is about 20 km and 7 kms at its widest. The main settlement of the valley is Thugji, about 80 miles south of Leh. Within this valley are two lakes - the fresh water Panluk Lake (2 sq kms), and the salt-water Tsokar Lake (10 sq kms). The Tsokar is also called the 'white Lake', probably because of the white salt deposits on the northern shore, which the Changpas used to collect and trade till not very long back.
The salt valley is surrounded by fresh and saline marshes and wet meadows which support a variety of aquatic life such as black-necked crane, great crested grebe, and bar-headed goose, and wildlife such as Kyang (Tibetan wild ass) and Tibetan sheep.
Puga valley, 15 miles east of Salt Valley, is famed for its borax and sulphur mines, and also its hot water springs known for its thrrapeutic powers.
The average height of the region is 5,000 m and can be approached from Leh across the Tanglang La pass.
The nearest airport is at Leh. Leh is connected by flights to Delhi, Chandigarh, Jammu and Srinagar.