Padum Travel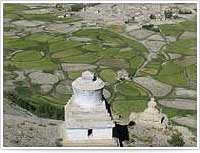 Padum, also known as Padam, is the largest town and administrative centre of Zanskar, and once the capital of the ancient kingdom of Zanskar. It is the most populous settlement of Zanskar and is located at an elevation of 3,500m (11,640ft) in the Himalayas. The 240km road connecting it to Kargil was completed in 1981. There are several small villages around Padum.
The traditional heart of the village is below the gompa where two large chortens stand above old buildings. Padum has several hotels and restaurants for tourists.
Padum is mostly inhabited by Buddhists, though there is a sizeable Sunni Muslim population (about 40%), mainly Balti who have been living in Padum since the 17th century. A mosque (the only one in the Zanskar region), was built in Padum in recent years to cater the local Muslim population.
Padum is the base for many difficult treks such as Padum to Darcha via Shingo La, Padum to Lamayuru via Singge La, and Padum to Leh via Cha Cha La, Rubrang La, and the markha Valley.
Around Padum, one can visit the Starrimo Monastery, which houses about 30 monks, and Pibiting village, with its dominating hilltop monastery. Bardan, about 12 kms from Padum on the trekking route to Darcha, has a 17th century gompa, which is worth visiting.
Karsha, about three hours of walk from Padum, has one of the largest and most important gompas in Zanskar, dating back to the 11th century. It is a large white complex housing about 100 monks. The pujas (rituals) held here are quite different from other Ladakhi ones.
About two hours of walk from Padum, is Sani gompa, believed to be the oldest Ka-ni-ka gompa in Zanskar.
Stongde gompa, 20 kms from Padum, is the second largest Gelukpa establishment in Zanskar after Karsha.
It can be reached by air from Srinagar, 204kms, and Leh, 230 kms from Kargil. There are regular bus services from Kargil to Padum (240 kms). From Padum, hire a jeep for the rest of the journey. 
Part of the Kargil-Padum road (the first 90 kms from the Kargil side), is open only from July to October, so before that it is only possible to get there trekking.