Rangdum Trekking Tour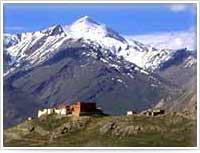 Halfway (in time, not in distance) along the Kargil-Padum road is Rangdum, the first village with a monastery, marking the end of the Muslim belt of the Suru Valley. Rangdum is where most truckers halt for the night, and so you will find plenty of village tea shops, offering basic fare.
The 18th century monastery, houses about 50 monks, and sits atop a lone hill rising in the valley, and belongs to the Gelukpa order. Many trawa (novices) also come here for their initiation into Buddhism. The dukhang of the monastery has mages of the Sakyamuni Buddha, and Tsongkhapa, the founder of the Gelukpa order. There are also many exquisite frescoes.
Rangdum is the starting point of an exciting trek through the Kanji-La (5,255m) that links up with the Leh-Kargil road at Lamayuru. The state-run Tourist complex here has basic facilities, for those not keen on camping.
The road south of Rangdum crosses the Pensi La (4,450m), after which a descent brings the magnificent view of the Darung Drung glacier into view. The road towards Padum continues to Ating, from where one can visit the Zongkhul gompa. Towards Padum, the ara gets a little more populous with villages like Tungri, Phey, Ating, Zongkhul and Sani.
It can be reached by air from Srinagar, 204kms, and Leh, 230 kms from Kargil. There are regular bus services from Kargil to Padum (240 kms). From Padum, hire a jeep for the rest of the journey.
Part of the Kargil-Padum road (the first 90 kms from the Kargil side), is open only from July to October, so before that it is only possible to get there trekking.
The best time to visit is between June and October (depending on the weather).