Khardung Pass Tour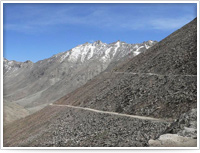 Khardung la (5359m) is alleged to be the highest mountain pass in Ladakh. It is almost always covered in fog and snow, and it boasts of being one of the highest motorable roads in the world. It is the gateway to Shyok and Nubra valleys and is situated 37 kms north of Leh. This short route of 37 kms takes about 2 hours to cover.
The first 24 km from Leh to South Pullu check point are paved. From South Pullu to North Pullu check point, beyond the pass, the road is narrow and broken, being as it were, made up of loose rock, dirt, and occasional rivulets of snow melt.
Background
The pass was built in 1976 and was opened to motor vehicles in 1988. It has seen many automobile, motorbike and mountain biking expeditions. Earlier it was considered one of the most important passes for trade in the Central Asia. Khardung La was the last major blockage to caravans on way to the Indus valley. Even today it is very valuable for the Indian Army.
Excursions
It is known as the gateway to the Karakoram or the land of black gravel. While visiting Khardung La, one should also have glimpses of the beautiful Nubra Valley and Siachen Glacier.
The pass is maintained by the Border Roads Organisation. One can see several Bactrian camels wandering in the northern area of the pass. There are several other higher motorable passes at Suge La (5430 m) in the west of Lhasa and Semo La (5565 m) between Raka and Coqen in Central Tibet, but Khardung La is frequented for its outstanding natural beauty. Hired vehicles (2 and 4-wheel-drive), heavy trucks, and motorcycles can be seen travelling in the Nubra Valley regularly, but one needs to arrange for special permits for the same.
How to Reach
Buses are operated on a regular basis from Leh to Nubra Valley. To enjoy every bit of the natural beauty at Khardung La, it is suggested to travel by a taxi.