Keylong Tour Guide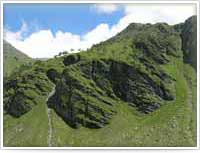 The district headquarter of Lahaul and Spiti, Keylong is an ideal destination for nature lovers and adventure freaks. It is the only town in the highway between Manali and Leh. Situated at an altitude of 3,350 m, and 115 kms from Manali, it has a strong influence of Tibetan culture. It is a small town surrounded by high peaks and remains cut off from the rest of the world between November and June because of heavy snowfall.
If driving to Leh from Manali, one can make an overnight stop here to see the sights around, or move on to the camp at Sarchu. At Keylong, days are warm and night are extremely cold.The best time to visit this beautiful destination is June to September.
Prime Attractions
Monasteries
Around Keylong, one can visit the 900-year old Khardong gompa, a 4 km uphill walk from town, across the Bhaga valley. The Shashur gompa, about 3 kms away is also worth visiting. Built in the 16th century, it belongs tothe Gelukpa order, and is known for its annual Chham festival held every June or July.
Lahaul & Spiti Tribal Museum
The museum is situated at the south end of town. The visiting hours are from 10 am to 5 pm, and it remains closed on Monday. Lahaul & Spiti Tribal Museum showcases the best and rarest of traditional costumes, old dance masks and treasures from local gompas.
Excursions
Apart from monasteries and art treasures, Keylong is frequented for sightseeing and excursions. Kardang (8 km), Shasur (3 km), Guru Ghantal (4 km), and Tyaul (6 km) are the most frequented places. The monastery at Tyaul boasts of being one of the oldest gompas of the valley. It houses a 5 m statue of Guru Padmasambhava and a library of Kagur with 101 volumes.
Tandi (2573 m), Sissu (3100 m), Gondla (3110 m), Triloknath (2760 m) and Baralacha Pass (4883 m) are several other excursion points especially meant for nature lovers.
Adventure
Keylong is a paradise for adventure enthusiasts. People can try out a number of adventure sports here ranging from skiing and rock climbing to trekking and fishing.
Shopping
Handicrafts are the key attraction at Keylong. The artisans are expert in the making and designing of shawls, local tweeds, caps, rugs (namdas), footwear, silver jewellery, pullovers, metal craft, woollen jackets and bamboo products. One can also find the markets loaded with fresh fruits and natural oils (olive and almond).
Accommodation
There are a number of hotels down in the valley. One can choose from a wide range of star-rated and economy hotels.
Getting There
Keylong is easily accessible from Manali (115 km) and Leh via bus or taxi. Due to heavy snowfall the Rohtang pass remains closed in winter. Besides, the nearest airport is Bhunter (175 km) and the nearest railhead is at Jogindernagar (250 km).
Keylong is synonymous with breathtaking landscapes, enchanting rives, snowcapped mountains complimenting the blue sky and pleasant weather. It is an ideal place to enjoy vacations amidst nature's untouched beauty.