Sarchu Ladakh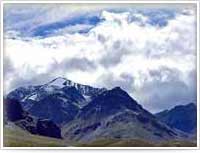 Situated an altitude of 4,290 m, Sarchu is an overnight, tented camp on the Manali-Leh highway, just on the boundary with Ladakh. Located between the Baralacha La in the south and the Lachulung La in the north, Sarchu makes a nice break for the weary travelers, as the journey between Manali and Leh generally takes two days because of the high altitude and road conditions.
The Camp Himalayan Saga at Sarchu is an adventurous site with several swiss cottage tents. These wind & water proof tents are stitched out of canvas and have proper living area, attached toilet with specially designed western seat & wash basin fitting, twin beds, chair/table, etc. This camping site is used as halt and an overnight stop by the travellers and tourists.
Excursions
While visiting Sarchu, one can also enjoy long walks along side the Tsarap Chu river. It also serves as the starting point for the difficult trek into the Zanskar region of Ladakh.
Accommodation
You can pitch up your own tent if you are prepared, or you can choose between the state-run HPTDC camps and the private operators. Tented accommodation is reasonable and includes camp beds and blankets or sleeping. Food on offer here is not at all bad, ranging from a basic meal to tea to a shot of chang (millet beer). Camps are scattered over an area of about 15 km.
Getting There
Sarchu is well connected by road from all the major parts of the state of Jammu and Kashmir, but the highway is closed in winter as the entire pass gets blocked after heavy snowfall.