Stongdey Monastery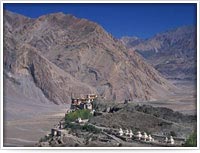 Stongdey is a monastery located about 20 km north of Padum on the road to Zangla. Perched on a rocky front, it is the second largest monastery of Zanskar after Karsha, with a resident population of 60 Gelukpa monks. This monastery is associated with the Tibetan Yogi Marpa. Marpa Lotsawa is credited for the spread of Buddhism to Tibet from India. Reaching there is quite tiring as one needs to walk uphill on foot for about four hours. The monastery is an ideal place to enjoy the spectacular scenery of the valley around.
Background
The monastery, founded in the year 1052 by Lama Lhodak Marpa Choski Lodos, comes under the Tsongkhapa Order. The monastery boasts of a number of beautiful shrines and some exquisite wall paintings. The most frequented among them is the Gon-khang, a temple dedicated to the guardian divinities of Buddhism.
Festival
Stongdey is popularly known for its Gustor festival held on the 28th and 29th day of the 11th Tibetan month, in which the monks perform the sacred dance.
Other Attractions
Around Stongdey, one can visit Karsha monastery (the largest Gelupa monastery in the area), Sani monastery, and Zongkhul monastery with their beautiful frescoes.
How To Reach
It can be reached by air from Srinagar (204 km from Kargil) and Leh (230 km from Kargil). There are regular bus services from Kargil to Padum (240 km). The trip from Kargil to Padum takes two days with an overnight halt at Rangdum. From Padum, one can hire a jeep for the rest of the journey.