Zangla Tourism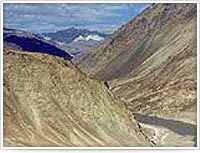 Zangla village, about 35 kms from Padum is a popular stop along various treks in the Zanskar region. It is also the starting point of the Padum-Markha Valley trek.
In the early times, it served as the capital of Zanskar. The ruins of an old castle above the village and the monastery make interesting visits in Zangla. This monastery is on a rock overlooking a river, and belongs to the Drukpa order.  It is much visited because the great Hungarian scholar Korosi Csoma Sandor, who made the first English-Tibetan Dictionary, lived in this monastery between July 26, 1823 and October 22, 1824. He carried out his Tibetan studies in a small cell of 10 sq m. His room in the monastery can still be seen.
There is a small nunnery nearby which houses about 20 nuns, and also has a small school attached to it for the children of the neighbouring areas, about 20 – 30 of them.
In the nearby village of Tsa-zar, mid-way between Stongdey and Zangla, there is a monastery worth visiting. The walls of the monastery have some fine murals. 
June to early October is the best season for visiting the area.
The nearest airport is Srinagar, and Leh, 204 kms and 230 kms from Kargil. The spectacular Kargil-Padum road remains open from July to early October, the heavy snow makes it un-motorable for the rest of the year. Take a bus or taxi to Kargil from Srinagar, and then hire a jeep for the rest of the journey.