Lamayuru Tourism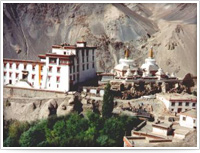 Lamayuru is a scruffy little village situated about 127 km west of Leh, but has one of the most spectacular gompas. It is not so much the gompa, but the location and construction that makes it special. It is perched above a drained lake, overlooked by massive mountains. Founded in the 10th century, this Kagyupa monastery is one of the largest and oldest ones in Ladakh, with a resident population of 150 monks.
Lamayuru Monastery
The monastery, belonging to the Red-Hat sect, has been destroyed and rebuilt several times. It has a great collection of thangkas, frescoes, shrines and murals (wall paintings). Explore the stone passages and courtyards of the lower parts of the complex. There is an Alchi-era temple, Singge Gang Lhakhang with its guardian deities, in the courtyard, which is not easy to locate.
The monastery also has an impressive 11 headed, 1000-eyed image of Chenrezig. Another major attractions of the Lamayuru Gompa are its two yearly masked dances. These dances are organized in the 2nd and 5th month of Tibetan lunar calendar, and monks from the nearby regions gather here to worship and take part in dance.
Other Attractions
While on a trip to Lamayuru, one can also visit the Wanla gompa, set on the popular trekking route to Padum. Besides, the wonderful passage to Zanskar also draws thousands of tourists from all over the world.
The famous 'Yangdrung Kabgyat' festival is organized every year on the 17th and 18th day of the 15th month of the Tibetan calender. People wear masks during the festival and perform sacred dances. The festival is so popular that people from the districts of Sham (Lower valley) and Stod (upper valley) also gather here in their colourful attires for the celebration.
How to Get There
Lamayuru is well connected by road from Leh, Kargil and almost all the major parts of the state.