Phugtal Ladakh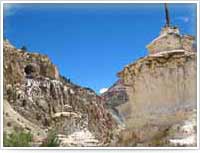 As its name suggests (Phug means cave), the honey-comb-like Phugtal Monastery, home to more than 70 monks, stands at the opening of a large cave on a cliff above the Tsarap River. It has three large and one small prayer room whose unique, exquisite frescoes are similar to the 11th century ones of Alchi Monastery. The chorten here is believed to house the relics of Tsherap Zangpo, its founder. Csoma de Koros, regarded as the father of modern Tibetology, is said to have spent one year here. It takes a tough, arduous trek of two or three days to reach this isolated monastery, which appears to be miraculously glued on to the side of a vertical rock-face.
The imposing monastery of Phugtal, which belongs to the Gelukpa order, is a rare, unmatched sight. Phugtal Gompa offers you a glimpse of the importance of Buddhism in Ladakh.
Other Attractions
The monastery has a fine display of magnificent tangkhas and wall paintings. Being one of the most isolated monasteries of the region, the Phugtal Gompa of Ladakh dates back to the early 12th century. It gives the appearance of having been constructed out of a mountain.
The cave is located in the front of a huge gorge. It serves as a passageway for a major tributary of the southern Lungnak River, i.e. Lingti – Tsarap. One can find a number of chapels situated inside the premises of the monastery, out of which a few reflect the typical Indian architectural pattern. Apart from that, the monastery is visited for its frescoes as well as the ceiling decorations that adorn the chapel and bear the marks of artistic and iconographic influence of India.
Another attraction of the monastery is a hollow in rock of the cave. The surprising element is that the water level of this hollow never reduces even after taking out any amount of water. This water is believed to have healing powers.
Getting There
Phugtal is accessible from the Padum, via Manali-Padum trekking route, through a 7 km long trail that branches of from Purney Bridge.
It can be reached by air from Srinagar (204 km from Kargil) and Leh (230 km from Kargil). There are regular bus services from Kargil to Padum (240 km), from where a comfortable jeep drive takes you to Phugtal. Part of the Kargil-Padum road (the first 90 km from the Kargil side), is open only from July to October, the best time for visiting the Phugtal monastery and for trekking as well.